tiger balm is a well-known brand all around the world. It is more than 100 years old medicine. It 's original composition was given by herbalist Aw Chu Kin who was an herbalist in Chinese imperial court. The name of the product was kept on the name of a one of his son whose name in English meant "gentle tiger". The extracts of various herbs and plants are used as ingredients in making of balm. The composition though simple is very effective in pain relieving.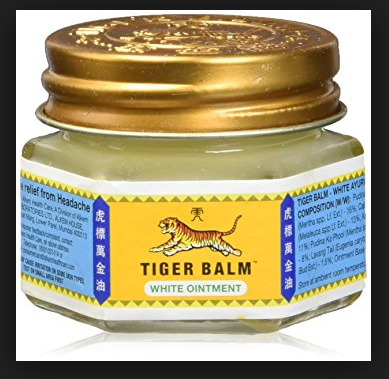 Tiger Balm has analgesic and anesthetic properties. Two major ingredients of the balm are camphor and menthol. Various essential oils such are Cajuput oil, mint oil and clove oil are also used for making the balm. Besides these oils paraffin and petroleum jelly are used as carrier's oil which help in diluting the balm and providing texture to the balm. Most of the ingredients used in making the balm either have analgesic properties, anti-inflammatory or anesthetic properties.
There are two different types available in the balm category: Tiger Balm Red and Tiger Balm White.
Tiger Balm Red: It is used when the pain in tougher body parts is quite strong.
Tiger Balm White: This balm been gentler can be used for gentle pains.
Besides this Tiger Balm liniment is a massage oil for curing muscle stiffness.
A very small quantity of Tiger Balm is applied on the affected area. Massaging of the balm in circular movements results in increasing blood circulation and stimulating nerve ending which results in relieving pain. To get better results, this process should be used 2-3 times in a day. Balm is used as cure for various joint pains, back aches, muscle pain, stiff necks, stiffness in calf muscles, headaches and many more.
Because of its effectiveness in relieving pain, Tiger Balm holds an important position among all the pain relieving medicines.